About

Kanjiramattom Mosque and Shaikh Fhareedudheen Maqubrha

Kanjiramattom is a suburban area of the city of Kochi in Ernakulam District, State of Kerala, India, lying approximately 25 km in South-East direction from the city of Kochi. Kanjiramattom is in Amballoor Panchayat within Piravom assembly constituency and is famous for the Kanjiramattom mosque.

Kanjiramattom is known for Sheikh Fareedudheen mosque and Maqubarah built as memorial to Sheikh Fareedudheen, who is also known as Baba Fareed, Baba Gunju Shakkar [RA] who was born at Kuthoodar – Chawli Mashaikh of then Afghanistan, presently Lahore, Pakistan. The famed 'Kodikuthu' festival is celebrated on 14th January of every year (Makaram 1 of Malayalam calendar) . It is one of the most important religious festivals of Kerala and is very colourful. Persons belonging to various religions and classes participate in the festival.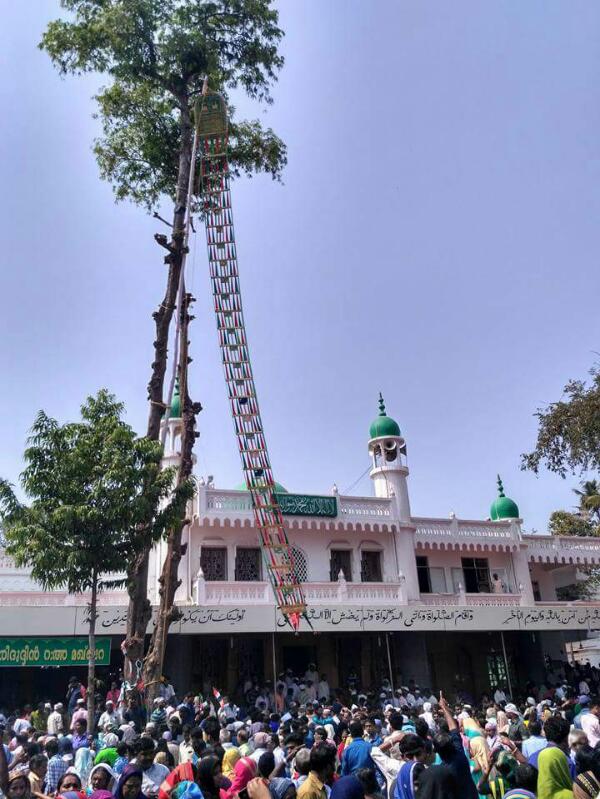 Kanjiramattom Kodikuthu
The annual Festival of Kodikuthu is held that Kanjiramattom mosque. The 'Chandanakudam' ritual is the main event of the Kanjiramattom 'Kodikuthu' and is conducted on 14th January every year. Several caparisoned and ornamented elephants with Chendamaelam and folk performances add colour to the event. Traditional Muslim art forms like 'Duff muttu' and 'Mappilapattu' are also staged during the festival. These items are song and dance performances.
The Kanjiramattom Kodikuthu draws a large number of pilgrims and tourists from all over. People come dressed in their best attire to offer players in the Kanjiramattom mosque during this festive. It is not a purely Muslim festival and people of all religious backgrounds participate in it without discrimination. There is total communal harmony. At the ' Melepalli' [ Upper Mosque], Hindu devotees pray and break coconuts. It is believed that 'Vavar Swamy', the contemporary and colleague of Sabarimala Sree Ayyappa Swamy stayed at 'Melepally'.